Ross River ride
The longest bicycle ride I've ever done was 81km each way from Alice Springs to Loves Creek Homestead at Ross River Resort in July 2015.
The name Ross River conjures images of the mosquito virus, but similarly named location 80km east of Alice Springs should not be avoided because of this.
Nestled in the East MacDonnell Ranges on the former Loves Creek Station, founded by the Bloomfield family in the 1890s, Ross River Homestead is an ideal place to explore one of the most ancient landscapes in the world.
I completed the 80km cycle journey each day in just over four hours.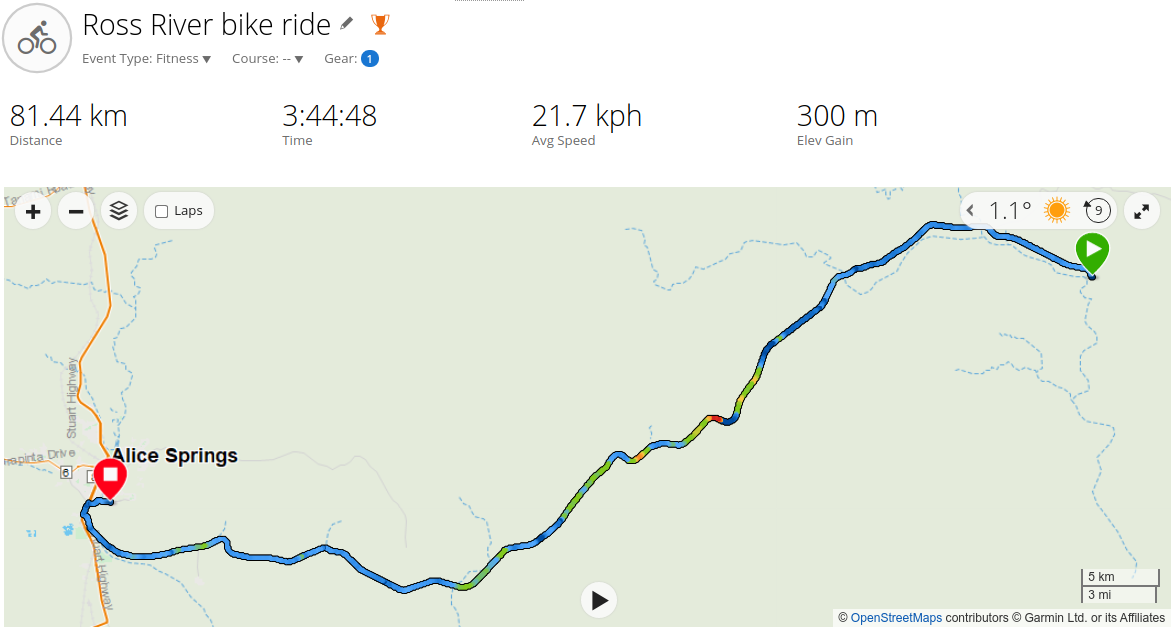 I detoured on the way there to look at Jessie Gap and Corroboree Rock. Both are Aboriginal sacred sites. The latter is a black dolomite formation, which Aboriginal women and children are not meant to see.
The rock was just over half way and provided a good resting place for brunch.
I left early on both days while it was calm, although on the return I should have left 60 minutes later because it was zero degrees at dawn and it took a while to warm up. On still days like these the wind tends to freshen from the east in the afternoon, which would have meant a headwind going there.
The road is sealed all the way and dual lane except for about 30km near Ross River. It's narrow though, with no shoulders, and requires considerable alertness for traffic, which was steady on both days.
Loves Creek Homestead was built in 1898 by the pioneering Bloomfield family as a working cattle station.
There are few hills. GPS tracking indicates a gentle ascent of 91 metres over 81km on the return.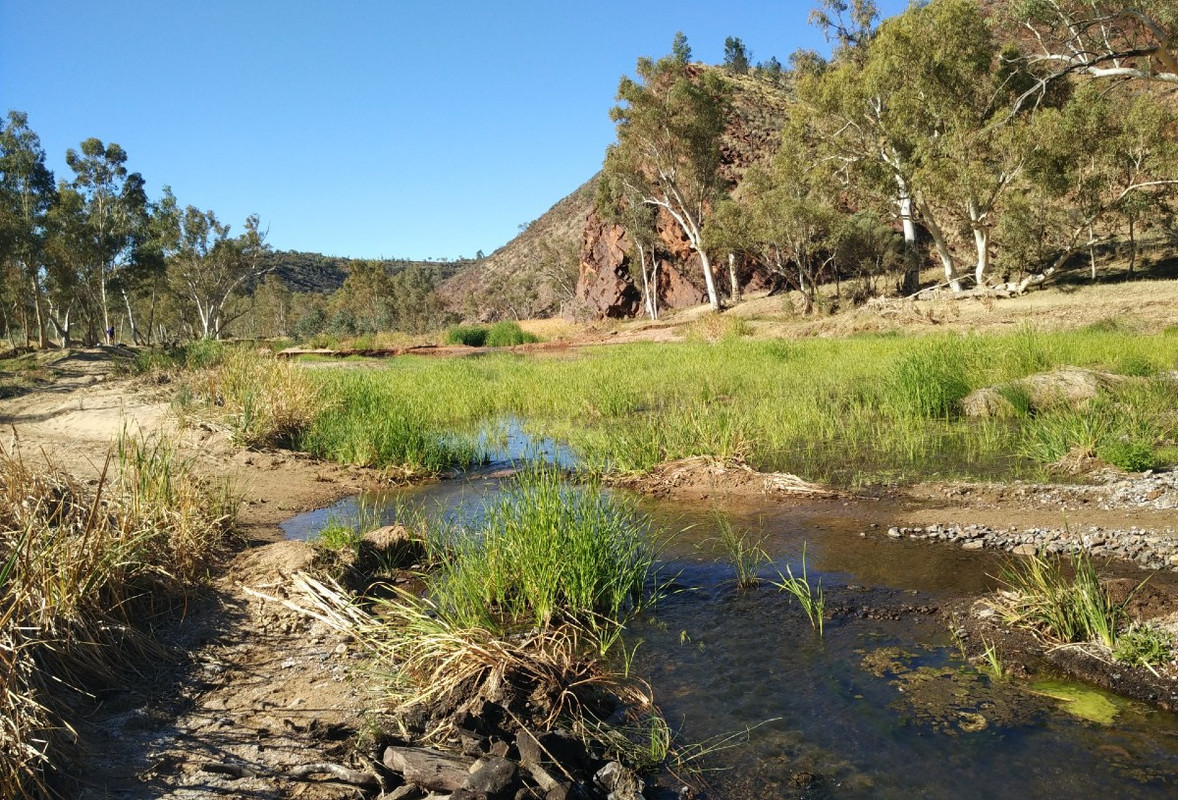 Ross River Homestead was a welcome sight after 4.5 hours in the saddle. The official name is "Resort" but the manager honestly concedes it needs a bit of work to reach that standard.
The "rustic cabins" date back to the 1950s. They're clean and comfortable, with ensuites and air-conditioning. Bunkhouse and camping options are also available.
Snacks can be bought at reception and meals are served in a communal dining room.
I was shown part of the original homestead, built using local limestone to keep the interior cool in summer and warm in winter.
The former Loves Creek Station was handed back to traditional owners in 2012. Cattle are agisted on the land today by pastoralists.
I went for a 9km walk around the homestead. A short scenic trek up a ridge gives excellent views over the property and distant ranges.
I then followed a 4WD track towards N'Dhala Gorge, which is renowned for its thousands of Aboriginal rock carvings. I was surprised and delighted to discover several waterholes, but less pleased to make way for several vehicles raising mounds of dust.
The ride back to Alice Springs went well; saddle soreness, sunburn and tiredness my only afflictions.
I would only recommend trying this ride from May to September, unless you're prepared to leave very early in the morning and equipped to handle heat.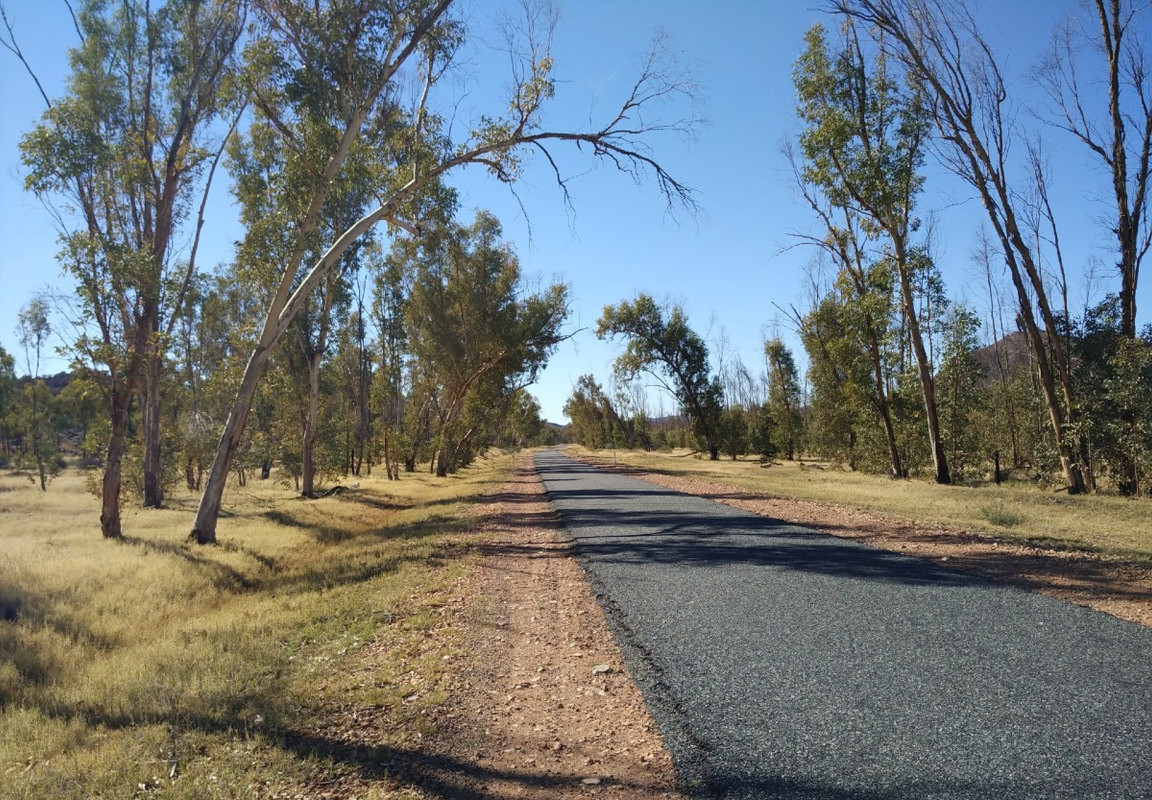 ---
Author: Michael
06 June 2021, 11:43
---
Share
There are no comments yet.
Leave A Comment