The Pillars of the Earth
If you can possibly imagine a cross between Thomas Hardy and Wilbur Smith you might begin to conceive the grandeur of Ken Follett's epic work The Pillars of the Earth.
There are hints of Jude and Tess in the tragic elements of Pillars, and the rural landscape also reminds of Hardy. The chronology of families through generations, and the gripping narrative, will be familiar to readers of Smith.
But the brilliant writing, the vivid imagination, the historical research and the intriguing peculiarity of the storyline are unique. I have never read anything as moving and powerful as this book.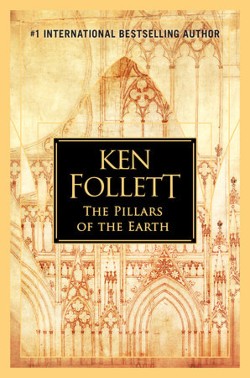 Set in rural England in the 12th century it tells the fictional backdrop to the building of a giant cathedral at Kingsbridge. The hero is a humble monk, Philip, who becomes Prior of the Benedictine Monastery.
He is a true man of God, concerned about the practical needs of his flock as well as their souls. His virtue is manipulated by others, but he learns worldly skills and succeeds against great odds in building a prosperous community.
The political situation is dire. England plunged into chaos after King Henry I died without a male heir. Constant civil war raged while the new King Stephen fought Henry's daughter Maud and her supporters for power.
This gave the barons tremendous local power and they generally abused it. The evil character in this book, William Hamleigh, becomes Earl of Shiring and runs amok. He's a brutal man who steals, rapes and murders at will. He fears Hell, but a corrupt Bishop gives him absolution for each terrible crime and schemes with William for greater power.
Pillars also traces the family of Tom, a mason whose dream is to build a great cathedral. Tom falls on hard times, thanks in part to William, and his first wife dies in the forest during winter while giving birth in the open air.
Tom leaves the baby to die, but conscience prompts his return to the scene. The baby though is gone. He later discovers it was found by a passing priest and taken to Prior Philip's monastery.
Tom wins support from Prior Philip to rebuild the Kingsbridge Cathedral after it was mysteriously burnt to the ground. Tom's stepson Jack was responsible for the arson, but this fact never becomes known to anyone except Tom.
I won't go into much more detail, or it will become confusing. My edition of the book was 1076 pages, which I read in four days.
It ends with the true murder of Thomas Becket, Archbishop of Canterbury, by knights who thought they were doing the work of Henry II.
It's a happy, uplifting finish though, and again I won't reveal the detail here.
This book combines tragedy with humor, gentleness, compassion, good and evil. Right prevails over wrong, but only after a torturous struggle in which scores of innocent people suffer and die.
I really enjoyed the historical setting. The 12th century period fascinates me, especially English history given the political significance of conflict between Church and state, barons and Kings.
Follett also gives a social insight to how people lived at that time.
I've been inspired to read more of his work. This was certainly the best book I've read in a long time.
---
Author: Michael
06 June 2021, 11:44
---
Share
There are no comments yet.
Leave A Comment